Owl Spirit Animal Moonstone Bronze Pendant Necklace
Regular price

Sale price

$95.00 USD

Unit price

per
1177 Owl Spirit Animal Moonstone Bronze Pendant Necklace
Cute one of a kind complete handcrafted and kiln fired gold bronze spirit animal owl with gorgeous rainbow moonstone bezel setting in the center. The backside of the pendant is also a owl and carries the cosmicdeva logo. The Owl is a symbol of being able to navigate any darkness in our life; this Spirit brings clarity, prophetic inklings, and a strong connection with the mystical world.
Owl Spirit Animal Keywords:
Intuition, ability to see what others do not see
The presence of the owl announces change
Capacity to see beyond deceit and masks
Wisdom
The owl spirit animal represents the deep connection that you share with wisdom, good judgment, and knowledge. Like the owl, which is known for its sharp vision and keen observation, you also possess insight and intuition. Owl will show you things that might otherwise remain hidden to you, so be open to seeing things in a whole new way. The owl spirit animal will give you the clarity and the direction that you need to make sense of things. 
Overall, Owl is a symbol of being able to navigate any darkness in our life; this Spirit brings clarity, prophetic inklings, and a strong connection with the mystical world.
This beautiful mystic owl gift necklace comes in a beautiful gift box ready to give to someone special - or to keep for yourself.  
Material Measurements Approx.:
✴ PENDANT SIZE: 1 inch (2.5 cm) wide and 1.58-inch (4 cm) height
✴ METAL: solid gold bronze
✴ HALMARK: CosmicDeva
✴ STONE: rainbow moonstone, marquise shape, 20mm x 10 mm
✴ CORD: Paperclip Chain 18 -22 inches (45.72cm - 55.8cm) long.
✴ CLOSURE: lobster clasp.
✨Proudly made in the USA and crafted with great care in my CosmicDeva studio.


Jewelry Designs and Artwork are protected by both Copyright and Intellectual Property ©  CosmicDeva
INFO: I try to be as accurate as possible with my product photos and descriptions. Pictures of products are taking under day light conditions without flashlight.

Please note that colors might vary slightly from one Computer/ mobile phone monitor to another.
My jewelry designs are not machine made - The photo of the item is the actual item you will receive. Small imperfections may occur. It is the character of handmade and not a fault or a reason for a refund. 
PLEASE NOTE:
Metals can develop patina over time if unused, and can be cleaned with a polishing cloth. Sealant might wear off after a while. Bronze ages nicely.
JEWELRY CARE:
You should remove your jewelry before doing any of the following:
Using household cleaning supplies.
Cooking with mustard, onions, eggs, or any other foods that contain sulfur.
Sunbathing
Swimming
Spraying Hairspray
putting on lotion and makeup
taking a bath or shower
Be careful of soft stones like Turquoise, Lapis, Pearl and Opal and many more, as they can be destroyed by contact with acid and harsh chemicals.
RAINBOW 🌈 MOONSTONE
Rainbow Moonstone acts as a prism, diffusing energy throughout the aura. It provides psychic protection, clearing the mind and senses, and aids in lucid dreaming and calm sleep. It deflects negativity and eases emotional trauma. Aligned with the Goddess, Rainbow Moonstones connect with the energies and spirits of Nature, from plant devas to galactic consciousness.
Zodiac sign: Cancer, Libra, Scorpio
Number:       4
Planet:           Moon
Mineral Information: Alkali Aluminium Feldspars
Chemical Composition: K (AlSi3O8) + Na, Fe, Ba
Hardness:                        6 (Mohs)
🦉 OWL SPIRIT ANIMAL
Goddess Athena held Owls as sacred. Athena is beyond doubt, one of the most complex Deities in history, and Her attributes included wisdom and strategy – so Owl Spirit became the perfect companion. In Greek tradition, Owl was also a protector. It was believed that an Owl flying over a soldier or army portended victory because Owl would remain watchful.
As a creature of the night, the Celts and Egyptians regarded Owl as a gatekeeper to other realms, particularly the souls of the dead. In some stories, this bird actually accompanies a soul, so it doesn't get lost on its journey.
In Native American tradition, Owl represents sacred. When you begin studying the mysteries, this Spirit Animal Guide is an amazing helpmate and mentor.
About Copper And Bronze:
Bronze/ Copper: these metals may discolor the skin green. It does not apply to everybody but please be aware that this might happen. I do seal all bronze and copper pendants with renaissance wax, but sealing might wear off after a certain time and need to be re-sealed.
Since the tarnishing process is facilitated by the oxygen in the air, it is advisable to keep your copper/ bronze jewelry in a plastic bag to slow down the formation of patina. You can also put an anti-tarnish strip in the bag.
Make sure you wipe your bronze/copper jewelry dry before storing it: Leaving it to dry in contact with the air makes it easier for patina to form.
Learn more about how to take care of your jewelry: https://www.cosmicdeva.com/pages/care-of-jewelry
Share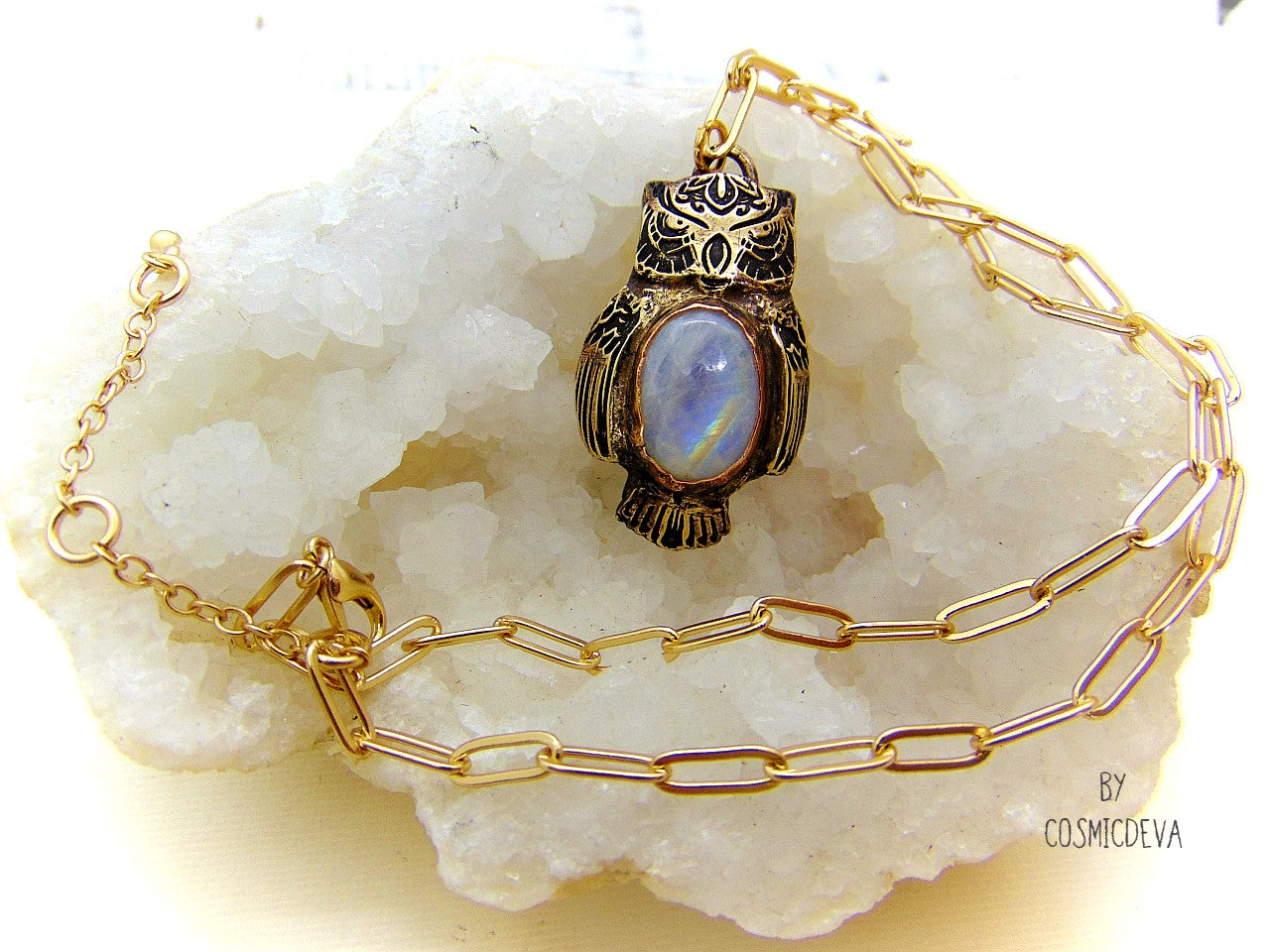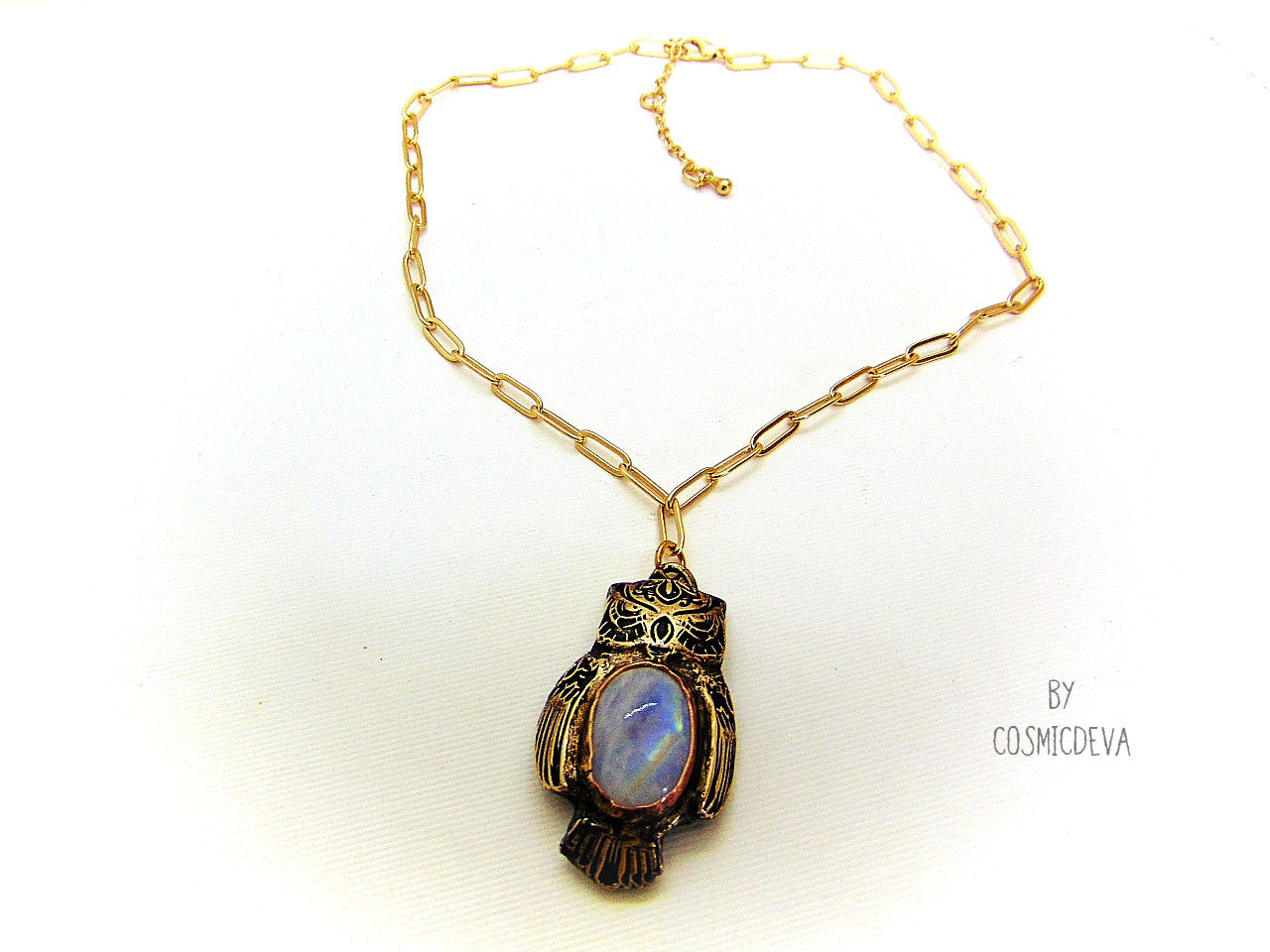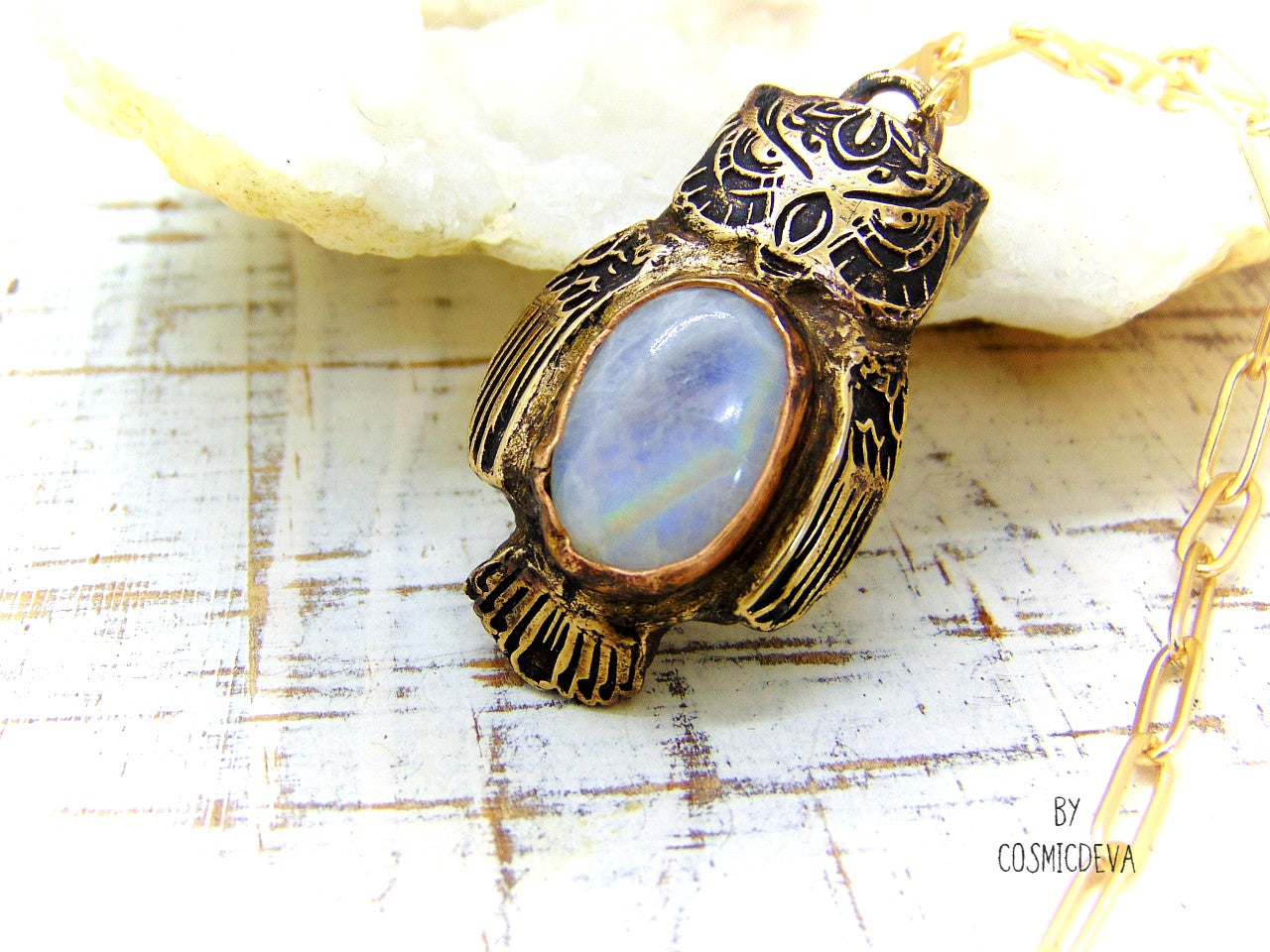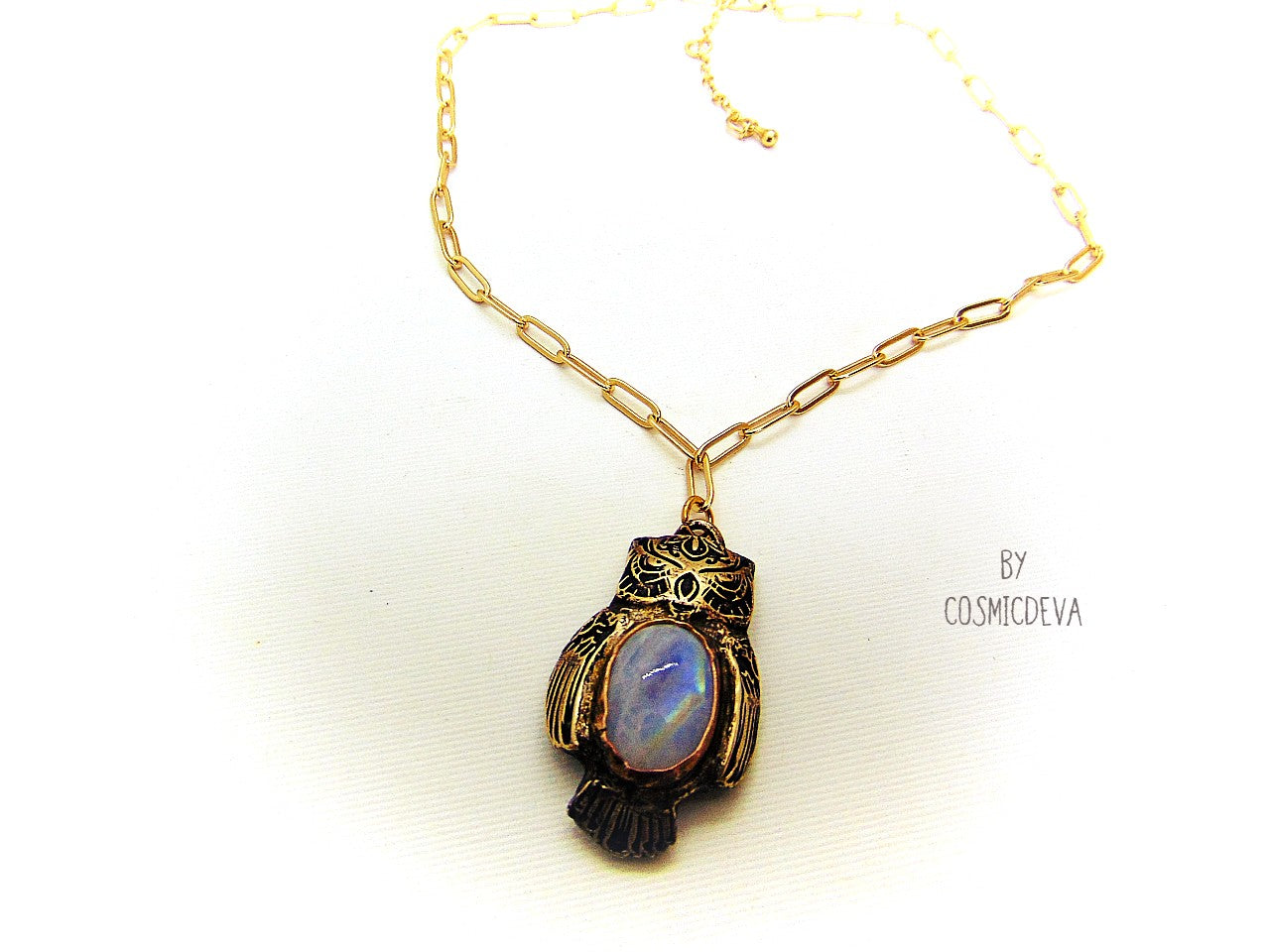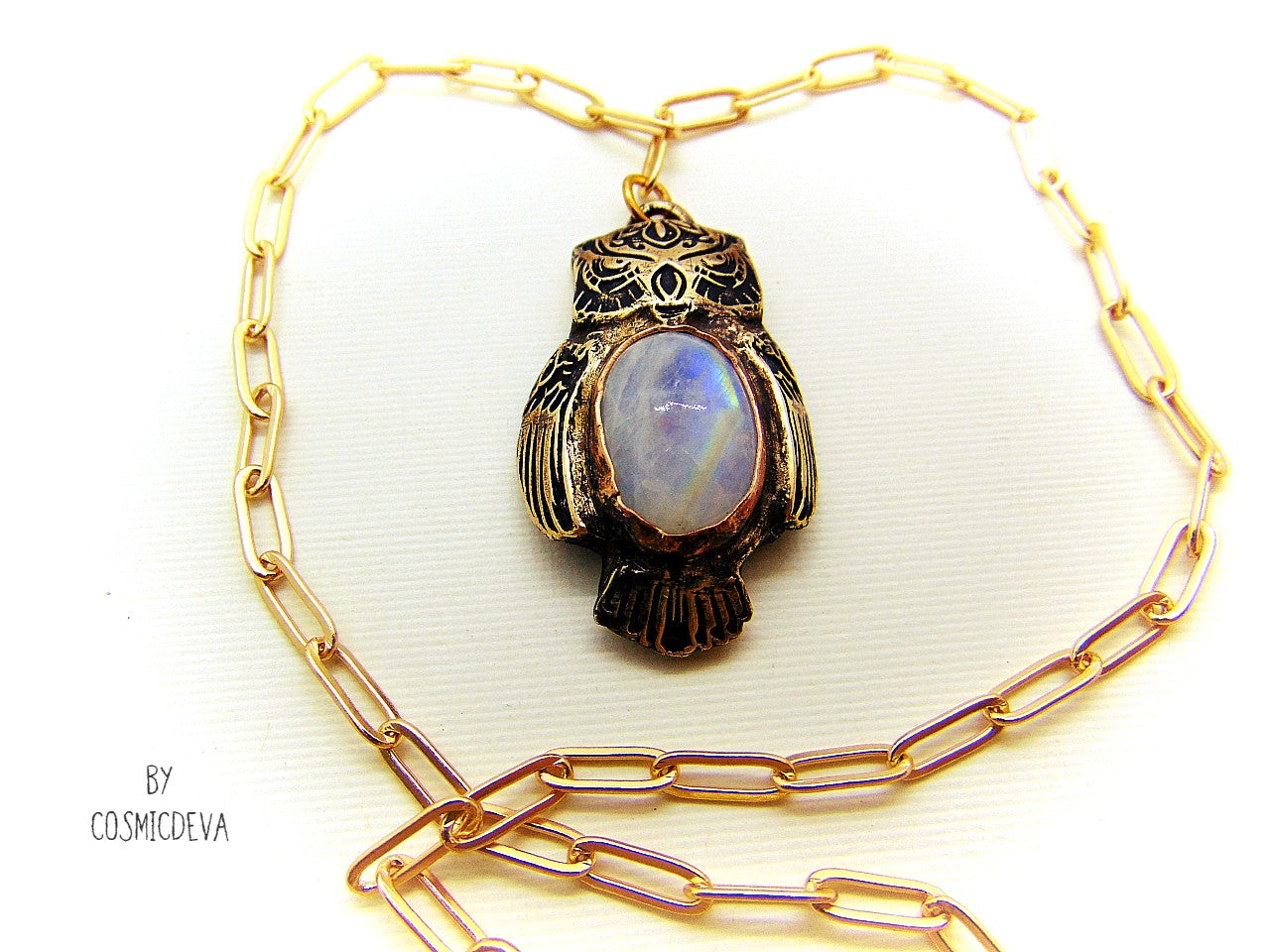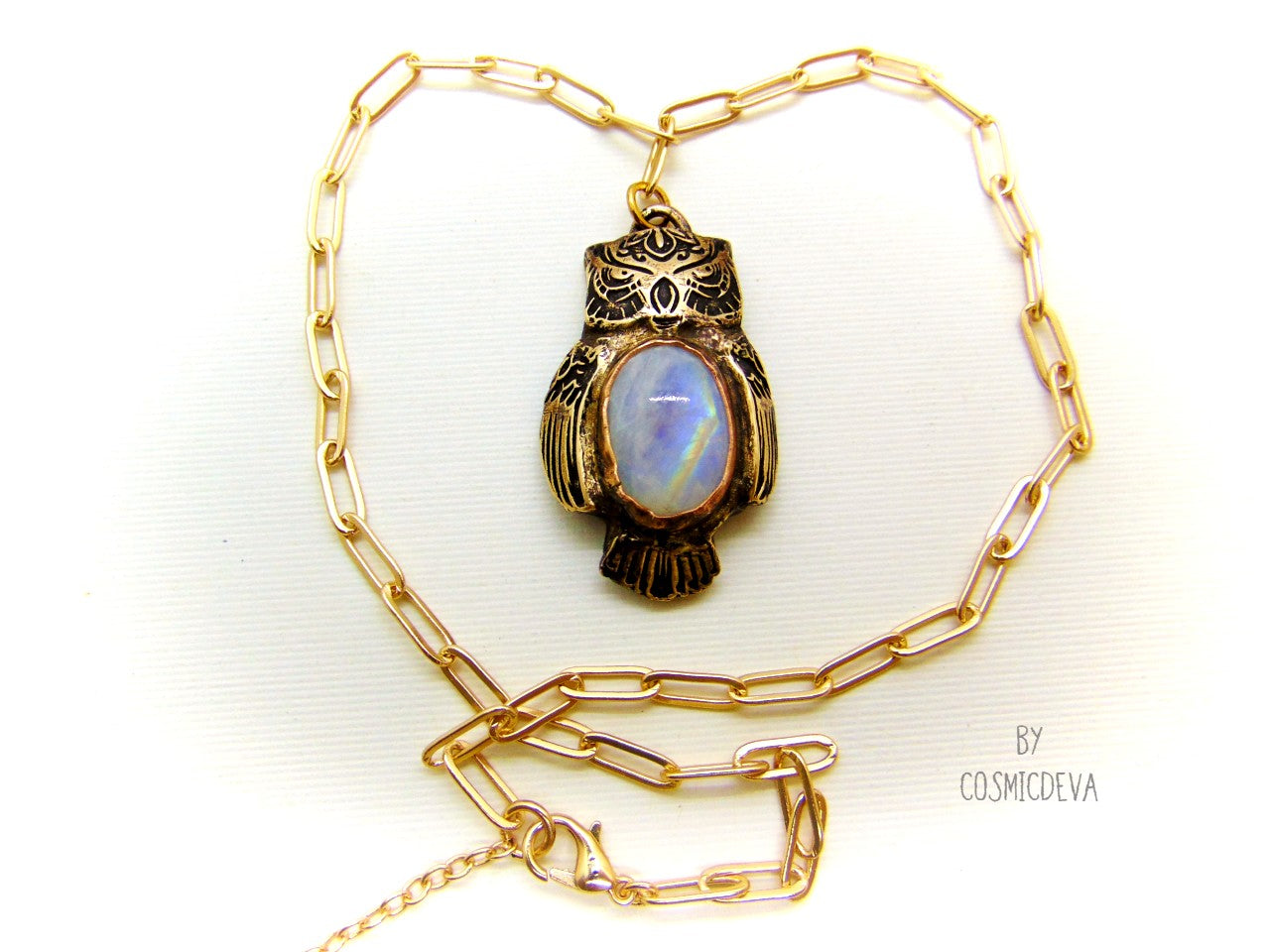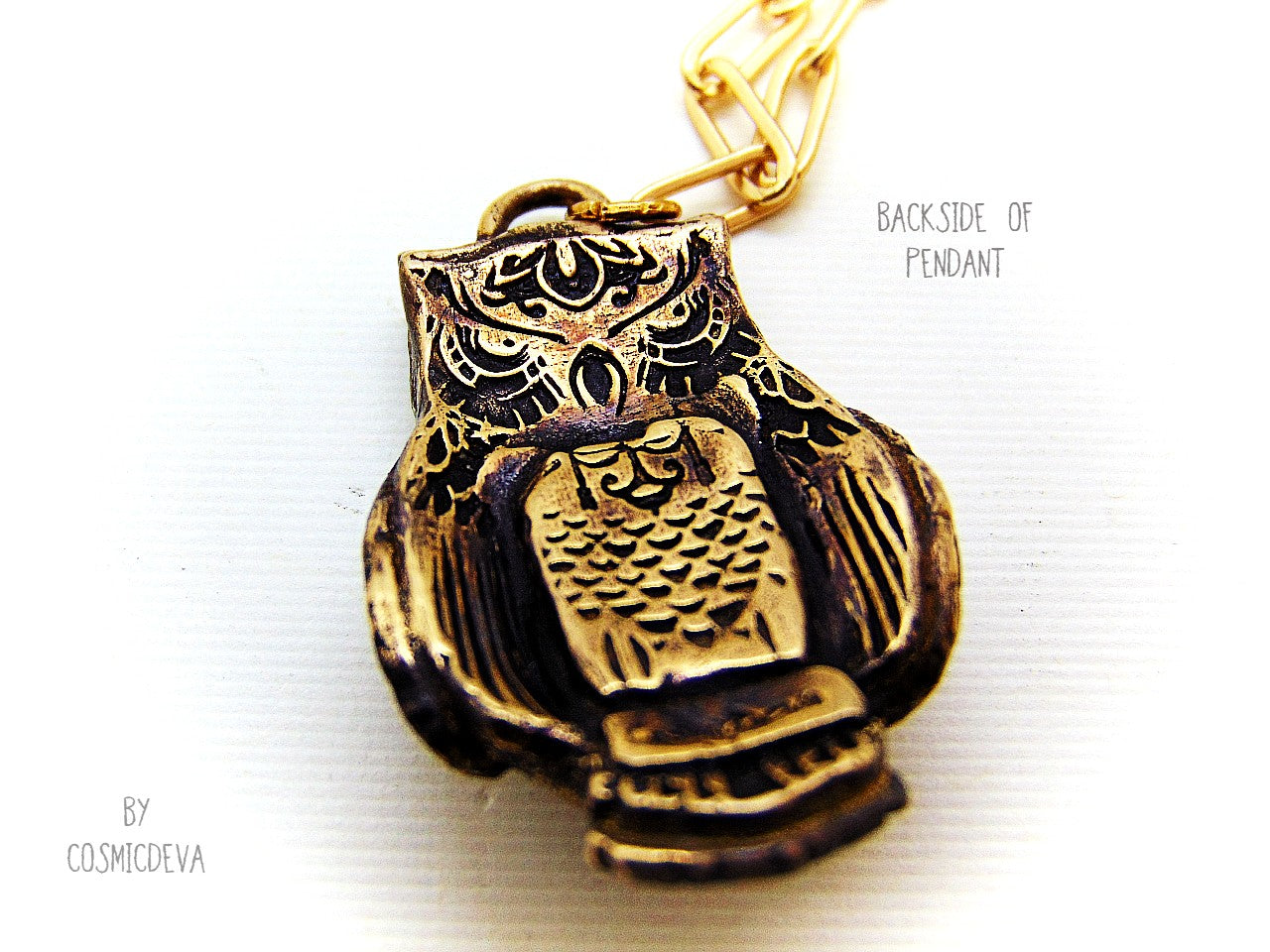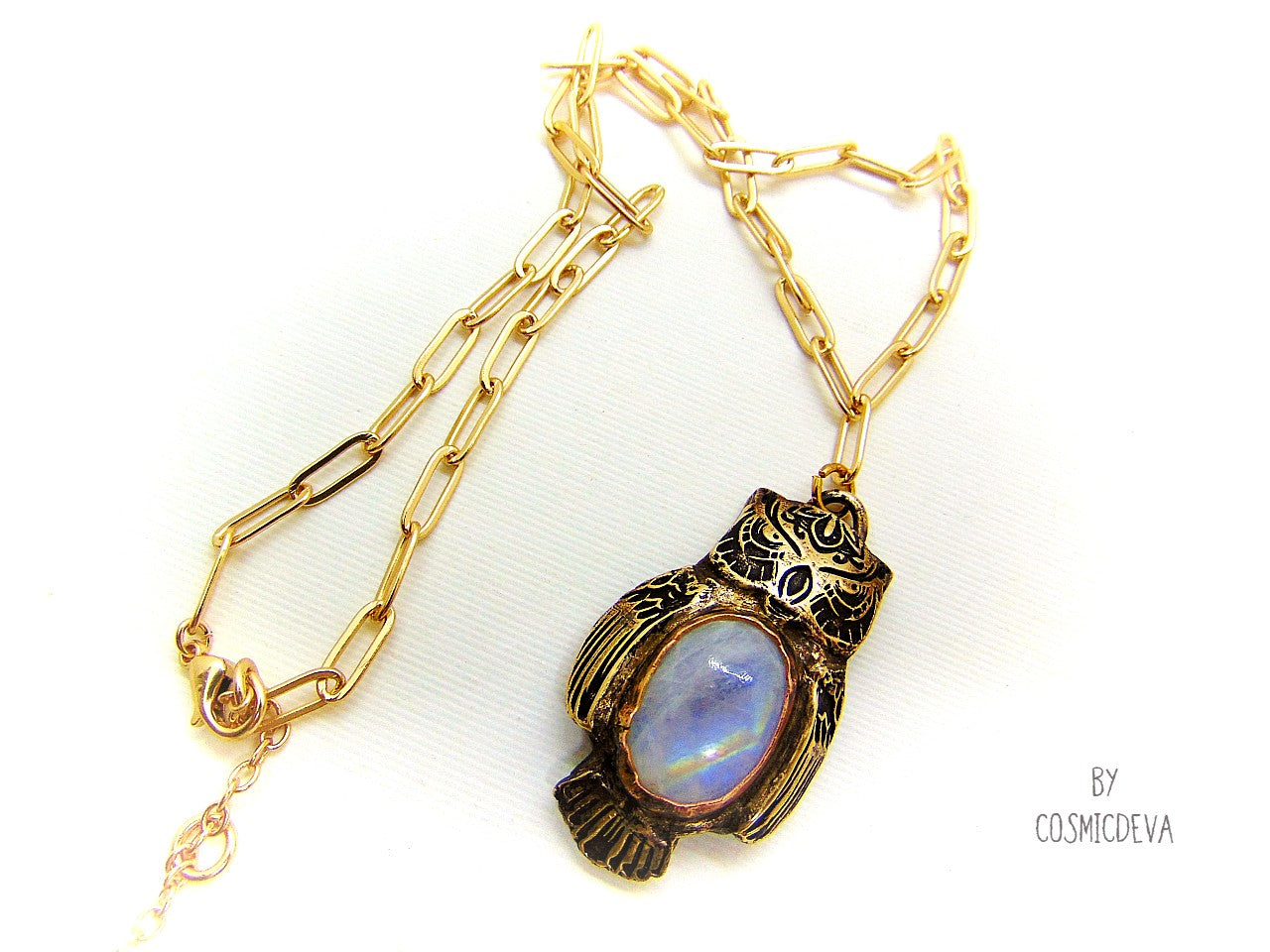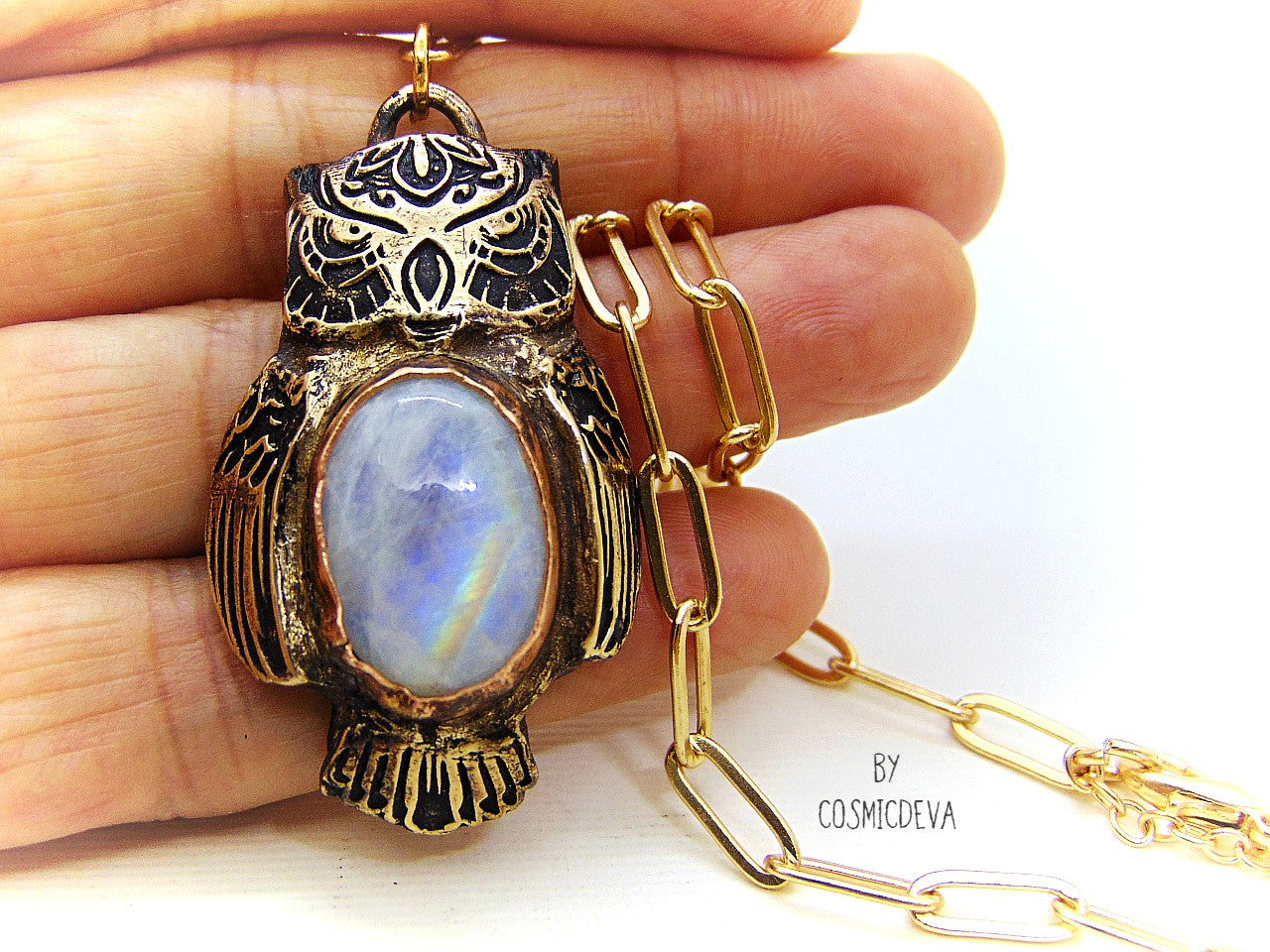 Amazing
So grateful I bought this peace not only is it a true eye catcher, but really powerful vibration❤️☺️